One of the most exciting things about Malcolm! is how quickly it can bring about real change to your business: freeing up your time, making things more operationally efficient and - best of all - improving the experience for your customers.
At their simplest you can think of Workflows as digital forms.   You can easily create a Workflow to replace the word document you email over to your customers to complete and send back or the clunky form on your website you cannot easily update - but this is only scratching the surface of what is possible.
Introducing rules & conditional logic
Using rules and conditional logic in Workflows is easy, powerful and will let you take your customer servicing to the next level.
Rules let you vary the content of a Workflow as your customer progresses through it.  This means you can easily create a multi-step journey that adapts based on the information your customer tells you or the choices they make.  
Conditional logic lets you trigger emails, integrations or webhooks when certain criteria are met.
For example you could build an order form that supports a number of different products and services that you offer.  As the customer specifies what they want to order the Workflow can adapt so you can collect the information you need that is relevant to the chosen products and services.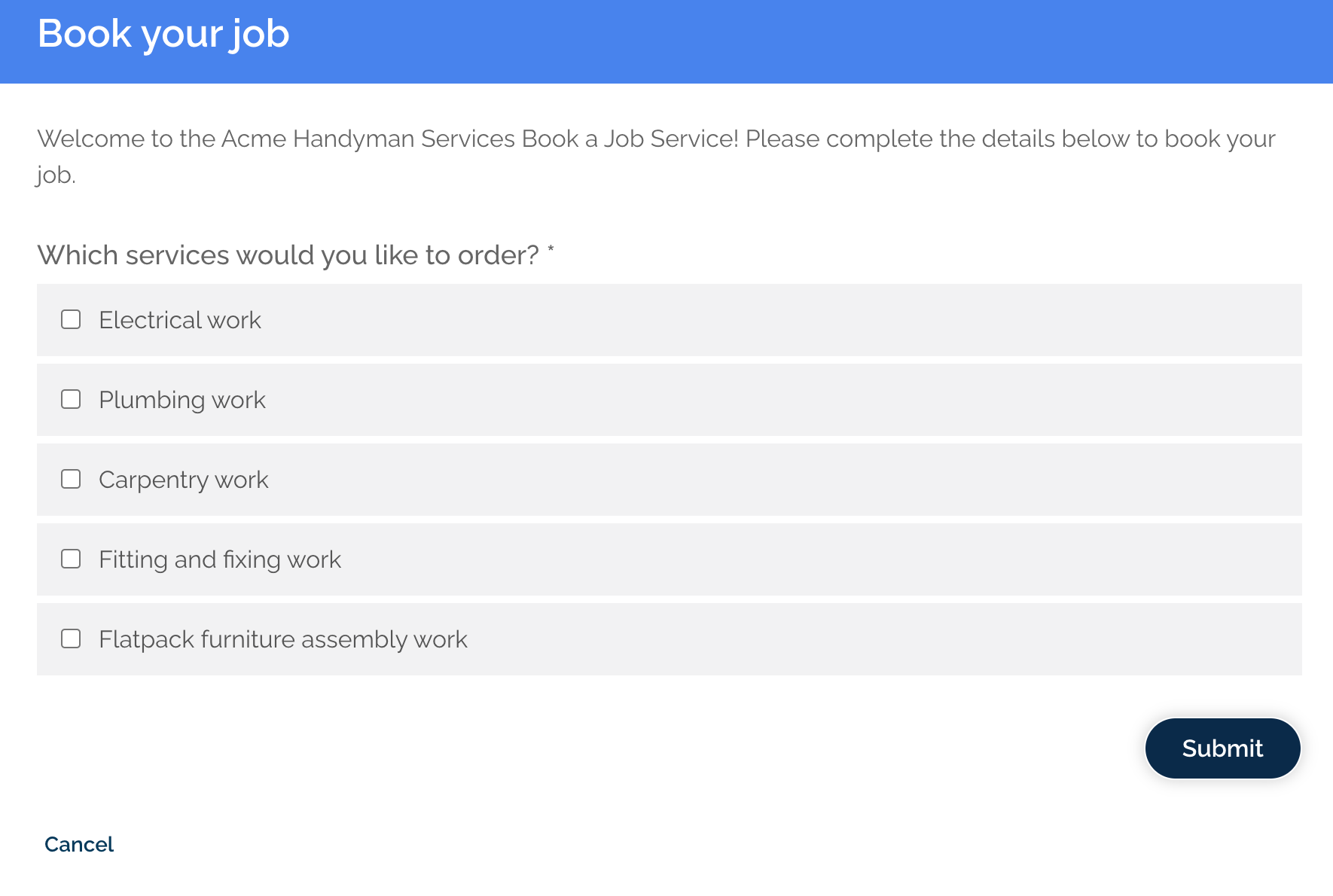 You might want to take payment from your customer and/or pass some or all of the details they supply into third party systems such as your CRM system or email marketing platform.    At the end of the Workflow process you can trigger an email confirmation to the customer confirming their order.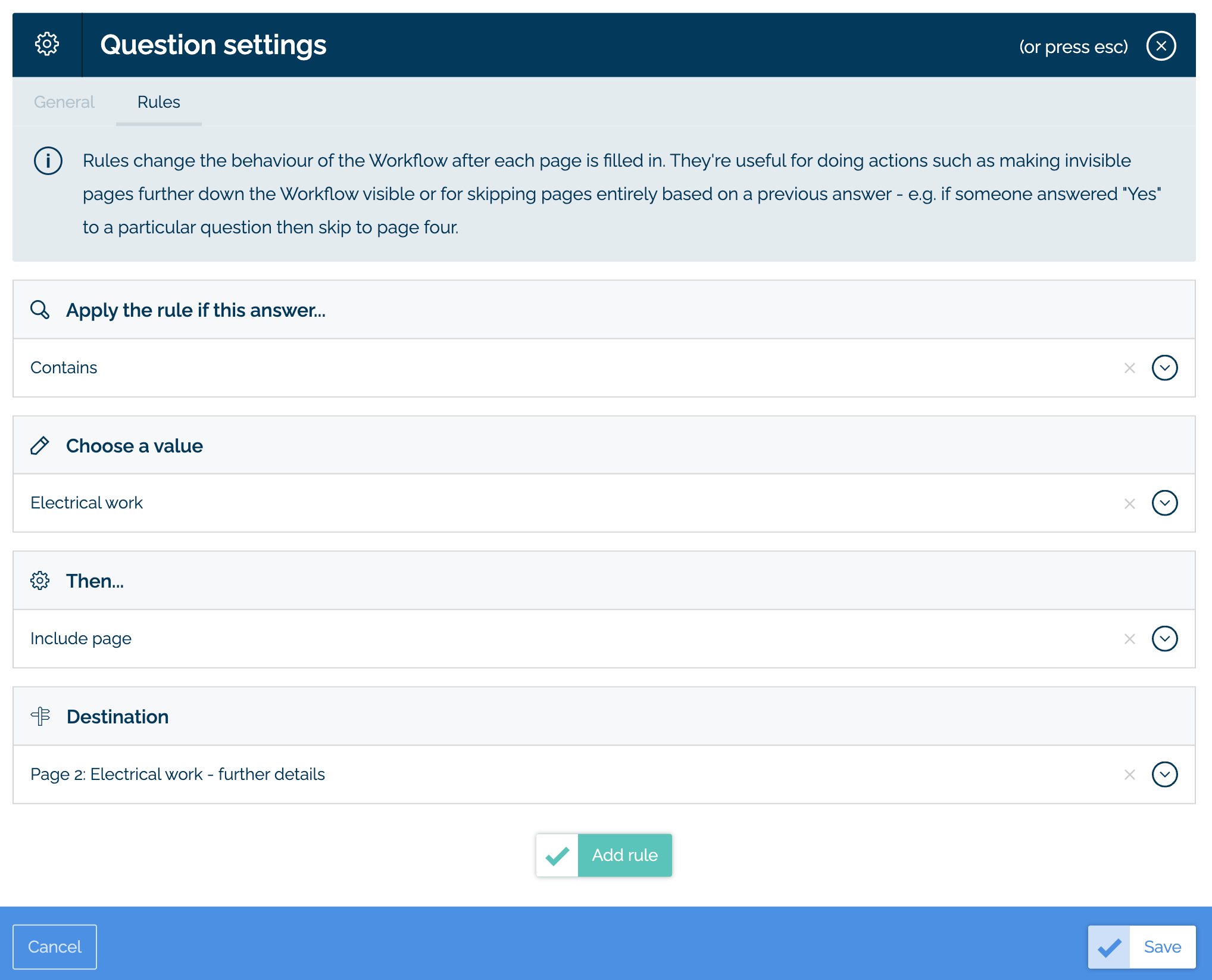 Automate your internal follow ups
At the same time as the customer actions above you may also want to initiate some internal communications - for example you may wish to automatically email the details of your order to members of your team, or maybe your suppliers who might fulfil a part of the order.
You may want to vary this so certain team members or suppliers are only emailed when certain products or services are ordered.  You may also only want to supply a subset of the customer order data to those recipients - this is all quick and easy to configure in MyMalcolm.
Instead of emails you may prefer to pass some or all of the information programatically via Integrations or Webhooks  - again this is quick and easy to configure.

An entire business process digitised end to end
Suddenly, in a few clicks, you've built a system that will take a customer's order and also handle all the internal tasks that are necessary to fulfil that order.  No longer do you have to contact the customer to ask further follow up information. No more re-keying of data.  No more waiting until the office is next open to advance an order.  No more delays in passing data through to your suppliers or internal team members.    Customers can now order 24/7/365 using a slick and mobile optimised process.  
Your time has been freed up, orders can progress more quickly, your data is consistent with the potential for human error removed. Your customers are happy and you've most likely gained a competitive advantage over your competitors.
So many possibilities
An order form is just an example we've used to illustrate the concept - there are likely to be many more use cases that are specific to your business or industry.
For example:
Maintenance requests that - dependent on the type of issue - collects the information you need and routes that information automatically in real time to the relevant team members or third party contractors
Job application forms that  - dependent on the type of job applied for - adapt the questions asked and notify different department managers on submission
Internal forms for your organisation - anything from human resource related forms to digital ideas/ suggestions, whistle blowing or surveys/feedback
Customer facing or internal briefing forms - these can be a great way of ensuring you have all the information and assets you need to start a particular task or process. You can then use conditional logic to disseminate the submitted information and data out to the relevant people
The only real limit is your imagination!
Watch our video tutorial below for more information on how to implement rules and conditional logic in Workflows. As ever if you get stuck, need a hand or just have some more questions don't hesitate to contact us!
If you are not yet a Malcolm! customer you can sign up for a free trial here.